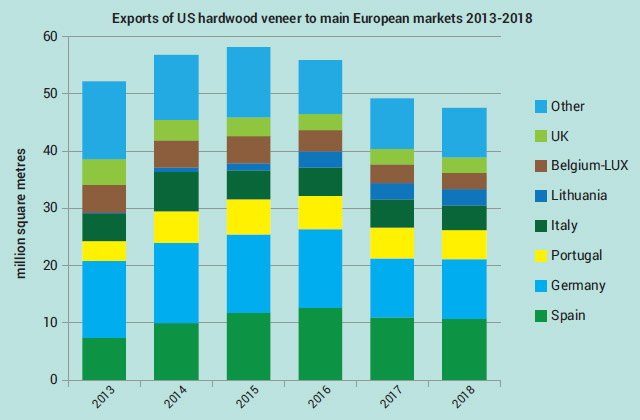 Despite uncertain economic times in Europe, its US hardwood imports rose in 2018, with the UK remaining the biggest buyer.
According to latest USDA statistics US hardwood lumber exports to Europe for 2018 rose by 0.5% to 369,100m3, with value up 4% to US$296m. This is the highest level since 2014 and encouraging given economic challenges faced by many European markets.
Of the main volume species exported to Europe, white oak was up 3.7% to 186,000m3. Significant gains were also made by ash, up 3% to 25,000m3, and walnut, rising 12% to 23,000m3. Tulipwood, however, dropped 8% to 84,000m3. Despite early modest gains in red oak, shipments were down 10% to 21,000m3. Once again, these numbers show that most volume is concentrated in three or four species, underlining the importance for AHEC to continue to promote underused species such as red oak, maple and cherry.
Although exports to smaller markets in Europe are rising, only four countries still account for nearly 70% of the total; the UK taking 30% of the volume, Italy 15%, Germany 13% and Spain 11%.
The UK consolidated its position as the largest market with lumber exports up 8% to 112,000m3. Its purchases of white oak increased 3% to 52,600m3, tulipwood was up 7% to 30,600m3 and walnut 23% to 9,100m3, both continuing a long-term rise. Ash was up 30% to 9,300m3, but red oak fell back 4% to 4,600m3 after significant gains in 2017. By comparison, total exports to Italy fell 12% to 56,500m3, to Germany by 3% to 46,900m3, and to Spain by 10% to 40,000m3.
Of the smaller European markets, Portugal led the way with US lumber imports up 15%, followed by Ireland, up 4% to 14,200m3, Sweden up 8%, Estonia 7%, Norway 17%, Denmark 11% and Greece 33%.
Although demand for US hardwoods continues to be mainly for interior applications, opportunities for exterior use are increasing, driven by technical developments in wood preservation, decline in availability of tropical hardwoods, and the fashion for natural finishes.
The main recent growth opportunity for US hardwoods has come in thermally modified timbers (TMT) for decking and cladding. TMT hardwood products not only achieve the highest durability class, but also age in a way that retains their aesthetic appeal. Data suggests that the share of TMT timber in the decking market in Europe is around 15-20%.
By contrast to the more positive trend in lumber exports, against a 3% increase globally, European sales of US hardwood veneer declined 3% to 48 million m2 and 2% in value to US$69m. This is attributed to intense competition from eastern European manufacturers, including Russia and Serbia, plus rising sales of wood-look laminates.
Looking forward in the UK, Brexit uncertainty inevitably casts a shadow over the market. Both new construction and building renovation markets began to slow late 2018, a trend that persisted in the first quarter of 2019 with contractors and clients delaying new projects.
Planning ahead in the UK hardwood sector is always difficult due to the bespoke nature of end use sectors. Brexit has made it more so. Hardwood buying has become cautious, with importers shrinking stocks. White oak is widely stocked by importers, but for most traders, European oak remains the volume hardwood seller, as much as 70-80% of totals in some cases. One reason is that importers can offer joinery customers prime sap-free grades, albeit at 30-40% higher prices than FAS white oak. However, there are many oak applications – kitchens, flooring etc – requiring a more competitive price option and US white oak fills that gap.
Resistance to red oak among UK hardwood distributors remains, but some are selling more, mainly as a paint grade. Red oak demand may pick up if importers become more confident about future activity in the joinery sector and convinced that current competitive prices will persist. Two large moulding and joinery companies buying direct from the US are seriously looking at capitalising on current prices and shifting some production to red oak.
UK importers reported steady sales of tulipwood in 2018, mostly in upper grades, for mouldings and general joinery. There was also good demand for American ash, but still little for cherry or maple. However maple demand could improve over the next year as a European beech substitute for specialist products such as fire doors.
Source: Timber Trades Journal Online
---