At the forefront of developing an environmentally friendly alternative to natural wood, Builddeck offers high quality composite from responsibly sourced, 100% FSC® certified wood and reclaimed high density plastics.
The innovative production process not only gives value to the waste materials, which would otherwise accumulate in landfill sites, it also creates a durable, low maintenance product that offers the look and feel of traditional timber.
Hard work and team work have allowed Builddeck to adapt to their customers needs time and time again. We are always learning ways to improve our services and feedback is always greatly appreciated.
Our composite decking boards are made from 60% timber and 40% recycled plastics, combining their unique properties in one base material, which makes it weather resistant and durable. The result is a low-maintenance, strong, durable, and eco-friendly decking board. This makes our products perfectly suited for use in gardens or public areas, due to being robust, versatile, and slip resistant. Although strength and longevity are certainly important aspects, you also want something visually appealing. We have plenty of styles and colours for you to choose from that can create a more attractive living space. If you are looking for composite garden decking that resembles real wood, composite is the perfect choice for you.
Our low maintenance products are the perfect solution to rotten and weathered traditional timber alternatives. At BuildDeck, our boards never have to be coated, polished or sealed, and they are secure and slip-resistant against any weather conditions unlike timber-coating goods. Decking installation is made simple, our easy-to-install range gives you the opportunity to fully appreciate your outdoor space and decking area with friends and family.
Connect today with BuildDeck on WoodScanner.com and be the first to know their offers on Composite Decking.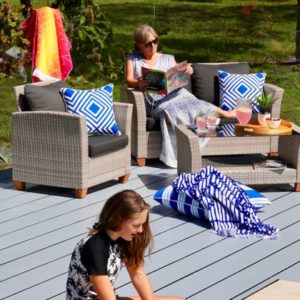 ---