The UK government set out its long-awaited proposals for tariffs in a No-Deal Brexit this morning. The trade plan would see full-scale liberalisation of 87% of import duties, while keeping protections for certain industries such as ceramics, automotives and farming.
However, this new temporary tariff system is only intended to apply for 12 months while the government consults on a new, permanent approach to international trade policy.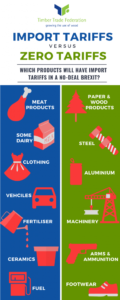 This means that for the timber sector, rather than seeing duty imposed on imports from the EU, the UK is aiming to meet WTO rules by eliminating duty on imports from the rest of the world. As we have previously told members, many wood and wood based products are already duty free and so will be unaffected by the new policy. However, imports of wood-based panels, veneers and products like LVL will in the event of a No-Deal Brexit now be duty free from the EU and the rest of the world.
This government strategy also addresses concerns raised by business that current EU trade deals and preferential arrangements could not be renegotiated by the UK in time for the 29th March.
Click on the link below to view a list of the temporary rates of customs duty on imports after EU Exit . Only products which will incur duty are listed and there are no wood products included.
UK government has also announced there would be no checks or customs declarations at the Irish border in the event of No-Deal Brexit. It has also said the new "temporary import tariff" schedule would not apply to goods crossing from Ireland into Northern Ireland.
A UK Government spokesperson said, "these are the only steps the UK government can unilaterally take to deliver on our absolute commitment to avoid a hard border in the event of no-deal".
Source: Timber Trade Federation
---